Montessori-based Adult Day Program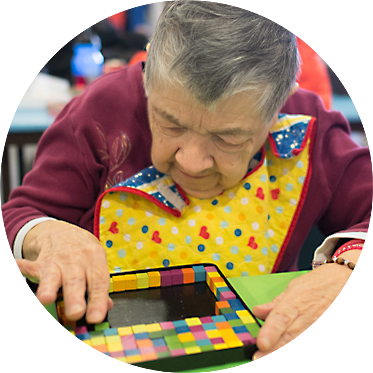 Using a Montessori approach, we teach practical life skills, communication skills, and social skills.
At Quality Connections, we offer a Montessori-based Adult Day Learning Program designed to help the people we serve become more independent in their day-to-day lives. Trained instructors guide participants through hands-on, sensorial lessons for reading, writing, math, and time skills. Music and drama classes are offered daily along with regular outings to a variety of places in our community.
We increase independence by tailoring learning experiences to the needs of our clients.
Our Montessori-based learning experiences are designed to meet the stages of learning of the individuals we serve. We are committed to providing fun and a positive learning experience for each and every one of our clients.
Our Day Program's Newsletter
Produced each month by our Members and Instructors, our newsletter will keep you up-to-date on all the awesome things happening with our Montessori-Inspired Adult Day Program.
Don't let your limitations define your quality of life.
Whether you or someone you love is living with a disability, we can help.
A brief portrait of Quality Connections' Montessori-based Adult Day Program — QC Learning — helping people with disabilities in Flagstaff, AZ learn and grow to reach their full potential.