Recycle Your Old Printer Cartridges and E-Waste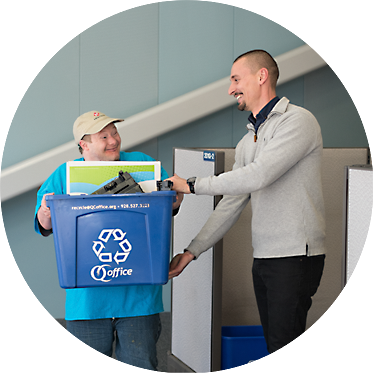 You won't just be helping the environment; you'll be helping to employ a person with disabilities.
We recycle printer cartridges & electronic waste — transforming your trash into employment & training for disabled workers. We refurbish what we can and keep all materials out of the landfill.  We can accept: computers, laptops, printers, copy & fax machines, projectors, cell phones, stereo equipment, ink & toner, tablets, cameras & more — download printable flyer for complete list of acceptable and unacceptable items.  We make it easy for you to make the environmentally responsible choice when disposing of your e-waste with a few simple options:
1. At the time of delivery of your office supply orders, our friendly delivery crews are happy to pick-up your printer cartridges and/or e-waste for FREE.*
2. 24 hours a day, you may bring your printer cartridges to QC – just deposit your cartridges in the Printer Cartridge Drop-Off box at our front entrance. This service is FREE for everyone!
3. Monday-Friday 10AM-3PM, you may bring your e-waste to QC – just drive around to our back alley door and ring the bell. This service is FREE for all active QC Office customers.
4. If your e-waste donation has considerable value, we may be able to pick it up from you. Please send special requests to [email protected].
*The amount of e-waste we are able to pick-up may be limited by availability of space in the delivery vehicle.
Not a QC Office customer yet?
All QC Office customers have FREE access to our e-waste recycling service, but there are small fees for e-waste recycling for members of the community who are not — download printable flyer for complete details. Avoid the fees and gain all access to our recycling service for FREE by simply becoming a customer. Sign-up today at QCoffice.org.
Bring to Quality Connections HQ – 3012 E Rt 66, Flagstaff, AZ
Front Entrance: Printer Cartridge Drop-Off – FREE for everyone! (24 hours)
Back Alley Door: Everything Else – FREE for QC Office customers (M-F 10AM-3PM)