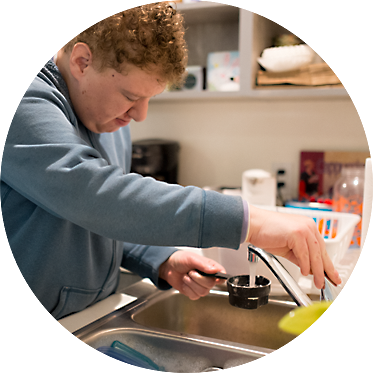 We help individuals refine their daily living skills in order to increase personal and social independence at home.
At Quality Connections, we offer support services to individuals living in six group home settings located in Flagstaff, Arizona. We craft unique plans for each individual in order to help them refine and improve their living skills on their journey toward greater independence – personally and socially. We like to say that we don't do things for the people we support – instead, whenever possible we teach people ways they can do things for themselves.
We offer Group Home and Independent Living program options:
Quality Connections' Group Homes are licensed and monitored by the State of Arizona. We offer social, environmental, and community-bred activities for our residents depending on each person's interests.
Quality Connections' new In-Home Services program now include attendant care, programs that teach greater independence and respite for loved ones and guardians.
Don't let your limitations define your quality of life.
Whether you or someone you love is living with a disability, we can help.
Become a Paid Provider for Your Child
Parents in Arizona who qualify can receive pay as Direct Care Workers for their own children's Habilitation and Attendant Care services through March 31, 2024. The program was established by the Arizona Division of Developmental Disabilities (DDD) during the COVID-19 public health emergency, and the Arizona Health Care Cost Containment System (AHCCCS) will extend it, using federal American Rescue Plan funds, so parents can prepare for the transition to outside workers.
A brief portrait of Quality Connections' Montessori-based Adult Day Program — QC Learning — helping people with disabilities in Flagstaff, AZ learn and grow to reach their full potential.